Posted on August 19th, 2014
VIDEO: 'VERSACLIMBER' IS BACK WITH NEW TWIST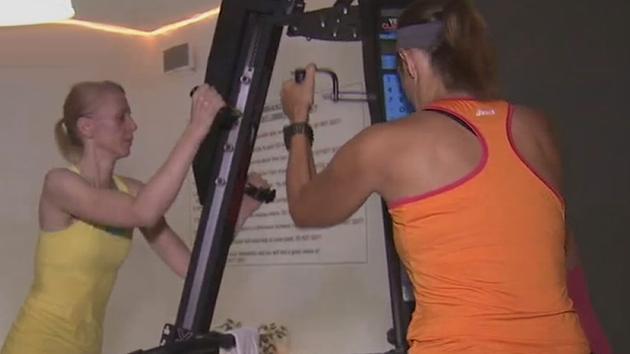 What's old is new again. You may remember the 'VersaClimber,' which was a big hit in the 90s.

Monday, August 18, 2014
LOS ANGELES (KABC) –
What's old is new again. You may remember the "VersaClimber," which was a big hit in the 90′s.  But the solo workout was so tough, many people were intimidated.  Now one gym in Westwood is bringing it back with a twist.  Food and Fitness Coach Lori Corbin checked it out.  Watch her report above from Eyewitness News.
Posted in Media | Leave a Comment
Posted on August 15th, 2014
The VersaClimber is the most ignored piece of fitness equipment in the gym, but it shouldn't be, says Jacques Devore, owner of the year-old Sirens & Titans gym in the Westwood neighborhood of L.A. The simple-looking 7-foot-tall rail with hand- and foot-pegs that move up and down in a ladder-climbing motion, a machine invented in 1981, invariably is empty because people are afraid of this brutal all-body aerobic workout. That's why VersaClimber devotee Devore put 15 of them in a room and began offering possibly the world's first group V-Climber workout. "The vertical orientation with hands overhead rockets your heart rate like nothing else," he says. "In 30 minutes of 45-, 30- and 15-second intervals, you get an aerobic workout that blows away everything else." I sat in on a full class one Tuesday as he cranked up the music and started barking out instructions.
Sirens & Titans, 2311 Westwood Blvd., L.A.; sirensandtitansfitness.com
Effort: Tough from beginning to end. With technique not an issue (you just move your arms and legs up and down), you focus on going all-out on the short intervals, each of which is followed by a brief recovery. (The workout is a total of 17 minutes of activity and 13 minutes of rest; believe me, you need that rest.) Driven by the inherent competition — your V-Climber is set up on a tripod with two others, and several times you go to the board to write down the total feet climbed from your digital monitor — I pushed to the point of near-collapse. When it was over, everyone was energized and ecstatic. One woman told me the class helped her lose 70 pounds; the hard-core athletes said the all-body intensity not only improved their cycling and running but also allowed them to train less.
Style:
 Devore is part coach and part mad scientist, ordering various lengths of intervals at certain intensities. The latter half of the session switches from competition to teamwork, as tripod partners aim for cumulative group totals. It ends on a rousing high note as the whole class pulls together for a group goal.
Copyright © 2014, Los Angeles Times
Posted in Media News | Leave a Comment
Posted on December 15th, 2014
Sirens & Titans Fitness has been amazing for me as a busy mom…I've got two boys that keep me running from pillar to post, a business that I build while they're in school and a very supportive, but also busy, traveling husband.  Whenever life gets too packed with events and commitments, the first thing to get removed from my list of things to do is EXERCISE!  Well, that is a thing of the past!  Enter Sirens & Titans Fitness! The beauty of S&TF is that my kick-ass, core building, muscle toning, heart pumping workout is DONE in a just ½ hour…AND I achieve better results in that ½ hour than I do running stairs or doing yoga for an hour! Thank you S&TF for keeping this busy mama fit and happy!
Posted in Testimonials | Leave a Comment
Posted on December 5th, 2014
WHY HAVE WE HAD SUCH GREAT SUCCESS IN FITNESS AND WEIGHT LOSS?  THIS IS IT!!  READ BELOW! FINALLY A PROGRAM THAT WORKS.  The MAX Results PROGRAM!!
As many of you know I have coached world class athletes in fitness and nutrition and that I spend hours and hours researching fitness and weight loss.  The genesis of the program is a result of my own weight loss experience when wrestling in both high school and college.
 Here are the Program Highlights:
My newest program is created only for those who need to lose substantial weight or change body composition and gain fitness in the fastest time possible.
This system combines exercise to maximize your EPOC (Exercise post oxygen consumption) to burn huge amounts of calories for the maximum hours after only 30-40 min of what some would not even call exercise
Because the exercises are unique and can instantly shrink the problem areas by working the small muscles pulling in the problem area.
You see the results almost instantly.
The session will leave you refreshed and leaving with an enormous boost in energy.
You will literally turn back the clock, skin will look better, hair better, and people will wonder if you had work done.
The workout alone will burn over 1200 calories and you will not be winded or overly exerted.
 I have been working on this formula in secret for some time now and have been hired to consult to numerous people in Hollywood looking to lean down effortlessly.
 Do you really think these people suffer through a workout? 
This max loss program combines the most advance training science that is only available to professional athletes and now to some celebrities.
 You will tone, shape and contour your body and finally get the look that you want.  Thighs, waist, triceps, inner thighs just melt away.  .
You will not have to suffer through brutal workouts.
You also are not required to change your eating.  The one shake per day is a proprietary blend of raspberry ketones, green tea extract, acai berry, combined with a workout with only one objective: Maximum Calorie burn without all the suffering.
THIS ALL SOUNDS REALLY WONDERFUL AND AMAZING, HOWEVER FOR THE MOST PART IT IS ALL A BIG BUNCH OF POOP!  
This type of marketing in the fitness industry is the motivation for my latest blog.  Here is the real story!
 WHY TACTICS ARE IMPORTANT TO MAKING GAINS AS QUICKLY AS POSSIBLE!  THE REAL STORY!
I believe the fitness industry's hyper- focus on Metabolic Conditioning workouts will soon diminish.  It is not to say there is not a place for this type of training.  The problem with this is that if this is your only focus the improvement you are looking for will most likely stall.  If you are always doing an hour of high intensity training, going from cardio to resistance, and back to cardio where you do go from here?  An hour of HIIT (High Intensity Interval Training) is somewhat of an oxymoron.  It is kind of like saying I am going to do 100 meter all out sprints for an hour straight, you cannot improve at as a sprinter, because you will never get any significant overloads and therefore no change.
If you can get past the initial shock to your body and get 4 to 6 weeks under your belt of a MetCon workout where can you go from a one hour high intensity workout?  Can you go harder?   If you do not get injured training like this you will soon be wondering why you are not seeing much progress.  Lack of change will be because your body has adapted and become more efficient at performing the higher intensity exercise.  The body is very efficient and you get in a rut because your body adapts.  Someone who is really fit will have a much lower metabolic load for the same hour workout than someone who is unfit.  Using the 100 meter sprint as a metaphor, probably all the sprints after the
first 3 would diminish in speed dramatically.  Therefore, there is little overload and you do not get any better at the 100 meter sprint.  It is not to say it is not hard!  It is just to say that harder is not necessarily better if you want to see improvement.
So, thinking this through what would you have to do to improve and change your body to be faster at sprinting?  You have a couple of choices.  One you could reduce the number of sprints in total during the hour and increase the rest between sprints, or you could decrease the distance of the sprint.  Either way you have to stand around and rest.  This idea of standing around and resting does not sell well in the fitness business today because of the hyper focus on burning calories.    In fact if you can increase the intensity higher by manipulating the rest time you can increase the metabolic load.  In addition you have a hormonal response by finally getting anaerobic in the exercise which will create an environment where changes can take place.
The other morning in one of our FUBAR (VersaClimber) Group) workouts we did only 5 minutes of total work time in a 30 min class not including the
warmup.  At the start of the workout the group was somewhat skeptical.  Only 5 min?  Hmm?  How would that sell?   Well, the 30 sec interval is one of the best physiological intervals an athlete can perform and I perform this workout on a regular basis for myself and I knew how hard this would be.   After the first 3 efforts everybody was wanting longer than the 2 min rest.  At the end they could not believe the metabolic load they had just experienced.  It was an incredible workout!  Granted I coached them to give all out efforts in the 30 seconds.  The overload these clients received will support there subsequent training at lower levels of output and sets them up for success with their fitness.   They DO NOT get stuck in the same rut if these efforts are designed and not random.
As Met Con Workouts become more popular clients will have to get more sophisticated with training design and periodization or they will not see any results.  Entertainment Value workouts will eventually be exposed for what they truly are.  By the way, just changing the modality of exercise does not help that much.  Primarily because if you are going hard in exercises that get your heart rate up, most will be lower body centric.  The problem is your cardio becomes the limiting factor and you cannot get the overloads you need to make change
regardless of the modality.
In my list of building the perfect athlete I talk about strategy and tactics.  Strategy is the longer term road map or plan to get you from where you are now to where you would like to be in fitness and body composition.  This includes the establishment of goals and the timing and measurement of the progress.  What are your strengths and weakness as an athlete?  Are there any external factors effecting your performance and how are they addressed.  It answers the why of a workout on any particular day.  It is the architectural training plan so that that the outcome satisfies your goal as an athlete.    A Met Con workout can be a part of this strategy and we include them into our strategy but you are destined to stall your progress if it is the only part of your strategy.
The tactics are many.  What particular exercises?  What is the volume and intensity of a particular training methodology?  Does the exercise enhance the ability to perform the particular movements required to reach your fitness and body composition goals?  Do not forget recovery and nutrition. 
The impact of the tactics on gene expression.  Do your workouts support your goals?    The answer to that question revolves around the idea of Specificity of Training.    At www.sirensandtitansfitness.com   we believe that winning in reaching a fitness goal is derived from the development of tactics coupled with nutrition that support a particular goal and is individualized.  The mechanical requirements and metabolic requirements are much different for each goal and the training must be adjusted to accommodate the different requirements of the different individuals.
This accommodation and differences in the trainings is defined as Specificity of Training.  This accommodation ties directly into the concept of correlation and training that I discussed in a previous post.  The focus of the training should be on exercises that modify the body's complex neuromuscular and metabolic systems to support a particular goal.
This requires the analysis of a particular client's and their movement patterns and metabolic capabilities.  So hopefully you get the idea of specificity
and tactics.  So Metabolic Conditioning workouts all the time will eventually run out of steam.
Get smart and put some value on your time, think about your goals, train in a way that addresses the specific needs and requirements of that particular goal.  Your tactics should be adjusted so that it addresses the specific requirements of the movements and metabolic requirements of your goal.
Without this you will spend much wasted time trying to figure out why you are not hitting your fitness and body goals.
Train smart, have fun, and you will prevail!
Jacques DeVore, CSCS
Founder and CEO, Sirens & Titans Fitness
Posted in Miscellaneous | Leave a Comment
Posted on December 4th, 2014
The Sirens & Titans Fitness  program has enabled me to recover power and endurance I thought I had lost ten years ago.  I've gained a higher level of sustainable power than I can ever remember having in the past.  Their practical application of current scientific principles and one-on-one coaching are elevating my PR's and improving my body composition.  And their nutritional coaching is helping me improve my power-to-weight ratio which is key in competitive cycling.  I'm making these gains with two intense thirty-minute workouts a week.  I prefer to be out on my bike rather than in the gym, but these workouts are improving my cycling performance so much that I dare not miss them.
This is a no-BS program that has net tangible and sustainable results.  S&TF is delivering for me.  I honestly feel like I've rolled the clock back.
Posted in Testimonials | Leave a Comment