Posted on August 19th, 2014
VIDEO: 'VERSACLIMBER' IS BACK WITH NEW TWIST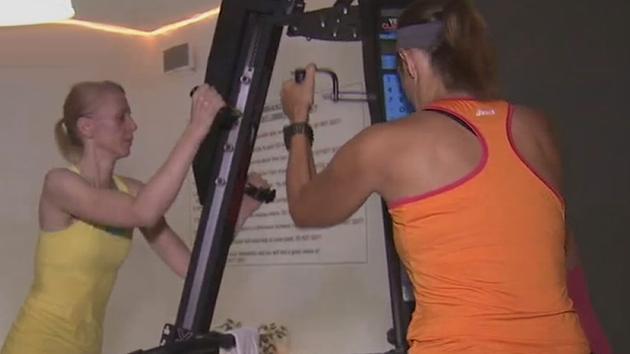 What's old is new again. You may remember the 'VersaClimber,' which was a big hit in the 90s.

Monday, August 18, 2014
LOS ANGELES (KABC) –
What's old is new again. You may remember the "VersaClimber," which was a big hit in the 90′s.  But the solo workout was so tough, many people were intimidated.  Now one gym in Westwood is bringing it back with a twist.  Food and Fitness Coach Lori Corbin checked it out.  Watch her report above from Eyewitness News.
Posted in News | Leave a Comment
Posted on August 15th, 2014
The VersaClimber is the most ignored piece of fitness equipment in the gym, but it shouldn't be, says Jacques Devore, owner of the year-old Sirens & Titans gym in the Westwood neighborhood of L.A. The simple-looking 7-foot-tall rail with hand- and foot-pegs that move up and down in a ladder-climbing motion, a machine invented in 1981, invariably is empty because people are afraid of this brutal all-body aerobic workout. That's why VersaClimber devotee Devore put 15 of them in a room and began offering possibly the world's first group V-Climber workout. "The vertical orientation with hands overhead rockets your heart rate like nothing else," he says. "In 30 minutes of 45-, 30- and 15-second intervals, you get an aerobic workout that blows away everything else." I sat in on a full class one Tuesday as he cranked up the music and started barking out instructions.
Sirens & Titans, 2311 Westwood Blvd., L.A.; sirensandtitansfitness.com
Effort: Tough from beginning to end. With technique not an issue (you just move your arms and legs up and down), you focus on going all-out on the short intervals, each of which is followed by a brief recovery. (The workout is a total of 17 minutes of activity and 13 minutes of rest; believe me, you need that rest.) Driven by the inherent competition — your V-Climber is set up on a tripod with two others, and several times you go to the board to write down the total feet climbed from your digital monitor — I pushed to the point of near-collapse. When it was over, everyone was energized and ecstatic. One woman told me the class helped her lose 70 pounds; the hard-core athletes said the all-body intensity not only improved their cycling and running but also allowed them to train less.
Style:
 Devore is part coach and part mad scientist, ordering various lengths of intervals at certain intensities. The latter half of the session switches from competition to teamwork, as tripod partners aim for cumulative group totals. It ends on a rousing high note as the whole class pulls together for a group goal.
Copyright © 2014, Los Angeles Times
Posted in News | Leave a Comment
Posted on September 16th, 2014
Jacques will be giving another great Sports Performance Lecture, on Thursday, September, 25th, 2014, 7:00 PM at Cynergy Cycles!  These lectures are all self-contained, meaning you did not have to go to the past lectures to understand and reap the benefits of this one.
This particular lecture is a must for any elite or amateur endurance competitor and will be informative, practical, fun, and will only take about an hour!
The focus of this lecture is "Pre-season Strength Training integration & Strength Training Integration during the race season." As with the previous lectures the information provided can be quickly incorporated in your own training which will lead to a quick improvement in your performance.
For more info & to RSVP visit:  http://cynergycycles.com/sirens-titans-fitness-lecture-series
We are looking forward to seeing you at the lecture. In the meantime, if you have any questions do not hesitate to call us (310) 307-0200, or e-mail us at info@sirensandtitansfitness.com
Posted in Events | Leave a Comment
Posted on September 15th, 2014
This will be the first of many discussions on the subject of intervals.  Intervals are one of the most misunderstood areas of training yet one that attracts great attention.  The word is usually accompanied by a groan.  However, if the progression of the intervals is modulated appropriately the intervals become a welcome challenge.  Athletes quickly understand that if done correctly large increases in fitness can be obtained. 
The dictionary definition of an interval is a period of time between two points of time, events, etc.; intervening period.  In exercise it is a period of time that an exercise is performed at different levels of intensity for different amounts of time. Most people think of intervals as the High Intensity Interval (HIIT) which is typically measured in seconds or a very short effort.  However, intervals could be much longer dependent on the desired outcome.   The challenge, from a coaching perspective, is to determine which length is most appropriate.  This is determined by level of fitness and the needs of a particular sport. I think most people today look at only the HIIT (high intensity intervals) intervals as training that is primarily driven by recent research that showed improvement in aerobic fitness without all the time. In addition exercise that sells well today is typically something that buries you.   However, at Sirens & Titans Fitness we drive all of our training by results, not what sells well.  We have a number of different intervals sessions focused on different energy systems.  There is an underlying coaching element that trains our clients in the best possible type of interval session based on the desired outcome and current strengths.  The different objectives of the sessions are developed to support the goal of increasing aerobic fitness to the highest level for the client.
We also perform intervals on an Intermittent Hypoxicator which simulates altitude, that we will use to test athletes to help us
determine levels of aerobic fitness.  www.gotoaltitude.com Duration of the interval is then adjusted so that time under intensity is either lengthened or shortened as the level of fitness changes.  Really short duration intervals tax the anaerobic energy system while longer duration intervals require more aerobic capabilities. There is a balancing act in this training because one energy system helps to support the other.    We will marry the length of the intervals to the needs of the particular sport.  The mistake that most make is going too long and too hard early in the development of fitness, and the pain is so great that the athlete never wants to think about this type of effort again.  There is definitely a psychological aspect of intervals that must be considered when incorporating this type of intensity into a workout.
Starting an interval training program:
There is a ton of research in the last few years that has lead everyone to believe that intervals are the cure of everything.  They
definitely should be a regular part of your training.  The hormonal response and gene expression that comes from intense efforts for short periods of time have proven that they have a role for all clients.  Only doing intervals for long duration cardio events does not make sense although some of what you read would lead you to believe that intervals will solve all the problems of any fitness program.  Intervals can definitely improve a cardio competitor's maximum sustained power but the longer duration energy system still needs to be taxed on a regular basis.
The other problem with many interval training sessions is that they are no longer intervals but just harder than normal cardio because of inadequate outputs and poorly timed rest between intervals.  We are in a fitness world where harder is always considered better.  This is so wrong.   As you get fitter you need to go harder, but you have to rest more in order to go harder.  If done correctly 6 or 8 30 second intervals completed in a half hour can be brutal.  However, many would look at this as too short of a workout.  This is because they are not measuring the output to make sure there is an overload in the efforts.
Our FUBAR VersaClimber workouts have utilized the science behind intervals very effectively and the Versaclimber as a machine is perfect for these types of overloads.
When starting interval training spend time on developing baselines so that you know what type of output you are capable of in a maximum effort.  These baselines are dynamic, so as you get fitter they change.  Pay attention to these changes and make adjustments.   If you want the most sophisticated measure you may find lactate testing and VO2 max testing helpful in determining these baselines.  I find that power is the easier and most effective way to measure output.  You identify power outputs at different levels of intensity.    You have to have an understanding of your capabilities.  Dependent on the equipment you can measure power output to determine these baselines.
This leads me to one of the most important parts of utilizing intervals.  Measurement of output!  Typically this is where the wheels come off the workout.  You must measure the amount of output!   If you do not, then the intensity of an interval late in a workout will diminish in output to such a point that there is little value.  I call this no man's land.  It is not hard enough for overload, but leads to overtraining and valueless fatigue.  Without measuring output you cannot determine if the time of the interval and rest period is adequate.   Utilize power as your primary measurement tool.  This eliminates most other issues that may be impacting performance.
How do you measure output of an interval?  Time and distance is the poor athlete's power meter.  For example you are doing
sprint intervals for 20 seconds on the track.  You want to measure the distance you are covering during these intervals. This will tell you whether you are producing more power than the previous interval.  On a slide board we use number of touches in the time of the interval and record it.  More touches mean more power produced and now you have a way to measure improvement.  It also allows us as coaches to determine if the interval should be shorter/longer, or should there be more rest between the intervals and also how many total intervals to perform.
The quality of the interval is of great importance. Poor output in your interval sessions will just make you fatigued with little performance value.  This can lead to the start of overtraining.  This is typically the problem with group cardio workouts.  
Intervals are also an excellent window into your fitness.  If you have in the past been performing much greater power outputs than the interval currently being performed then maybe you have not had enough rest since your last workout.  If we observe this lack of output we would skip these intervals and pick them up again after the athlete has had adequate rest to perform at the desired output.  In many cases if I see athletes drop off dramatically in the output of an interval, they will many times be sick in the days following.
If you are going to perform intervals in your training one of the first things you need to think about is determining your baselines and then coming up with a method for recording the output on an ongoing basis.  This will allow you to see what type of training outside of your intervals is adding or subtracting from your performance in an interval and also what type of intervals are adding to your performance outside of the intervals.
More to come….
Train smart, have fun, and you will prevail!
Jacques DeVore, CSCS
Founder and CEO, Sirens & Titans Fitness
Posted in Blogs by Jacques | Leave a Comment
Posted on September 11th, 2014
A. Featured S&TF Member of the Month!
Taleen Maranian
Our Member of the Month for September is Taleen Maranian!  Taleen is a tongue-in-cheek person with a quick wit, always ready to break into a smile.  But don't let her lightheartedness fool you!  She is hard working and laser focused when it comes to attaining her objectives!
Taleen likes to point out that she is a Gemini and loves to take long walks on the beach with her Siamese cat Captain Jack. When she is not enjoying the beauty of Southern California via foot, bike or car she focuses on her passion, working to cultivate people within organizations.
Taleen recently obtained her Doctor of Psychology degree in Organizational Management and Consulting which has intensified her passion and desire to develop people to attain their fullest potential.
She loves working out at S&TF, "Sirens & Titans Fitness has helped me remain focused on my goals and has strengthened by body and my mind!"
We love working with Taleen.  She takes her workouts seriously but approaches everything in a fun loving way which positively affects the people around her too!  Congratulations Taleen!
B. Announcement of the S&TF / Helen's Cycles' Vuelta a Espana FUBAR VersaClimber Individual Challenge winners!
The Individual Challenge – the fastest person to complete 1,422 ft. The same distance as last Saturday's Stage 14 Collado de Hoz
Climb, the first serious climb on Stage 14 climb at the Vuelta!.
1st Place: Peter Staddon 6:15 min. (avg. of 231 feet per min) – Prize: $75 Helen's Cycles Gift Card, three free weeks of our 30 Minute FUBAR VersaClimber Workouts.
2nd Place: Ryo Narui 8:12 min. (average of 175 feet per min) – Prize: $50 Helen's Cycles Gift Card, two free weeks of our 30 Minute FUBAR VersaClimber Workouts.
3rd Place: Terra Kier 8:35 min.(average of 170 feet per min) – Prize: $35 Helen's Cycles Gift Card, one free week of our 30 Minute FUBAR VersaClimber Workouts
Congratulations to all our winners and competitors!
C. We were featured on ABC7! – August was a major Media Month for S&TF!

As most of you know that on August 9 we were featured in the Health & Fitness Section in the LA Times! Check it out by clicking on this link to view: http://www.latimes.com/health/la-he-gymrat-versaclimber-westwood-20140809-story.html.
Also, on August 18th we were featured live by ABC7 Food and Fitness correspondent Lori Corbin for Eyewitness News.  Check outthe spot by clicking on this link: http://abc7.com/268426/
D. We are nominated for the LA HOT List – Best Gym.  Need you HELP!

There are only 18 days left, we are currently 2nd. If you haven't done so, PLEASE spend 20 seconds to register and vote for us!  Those of you who have voted so far we want to give you a special THANK YOU! EVERY VOTE COUNTS!  Also, to expand the votes please forward the link to your family and friends.  To register and vote please click on this link: http://la.cityvoter.com/sirens-and-titans-fitness/biz/683492?c=f0ba8a676276f4a9&r=fb
E.  Special Bundle FUBAR offer.  Take advantage of it!!!

Many of you have asked about the possibility of bundling the Strength and Conditioning Workouts with the FUBAR VersaClimber Workouts.   Here is how we are addressing this.  If you are holding an active Strength and Conditioning package you can buy any FUBAR package at a substantial 20% discount!
F. During the month of September try our Elite Workout for NO additional cost!!!
If you have an active S&TF Small Group Strength & Conditioning Workout Package you are free to utilize
one session of your existing package to try one session of the Elite Workout.  Coordinate with Jason at the front desk.  The Elite Workout is a challenging 45 minute session, which costs normally $40 per session, and is ideal for members who have been on the S&TF program for a while, looking to build on their current fitness level, coordination, and explosiveness.  Most of our top athletes are on the Elite Program.
 G. Free FUBAR Trail for Existing Members

If you are an existing member and you have not tried the FUBER VersaClimber workout we want to encourage you to try it.  It's a fun efficient way to quickly change your body composition and is an excellent complement to our strength and conditioning classes. We would like to give those of you who have not yet tried the VersaClimber workout, one free session.  Call or e-mail Jason to arrange!
H. Reminder: Please Complete the S&TF Satisfaction Survey…only
takes a couple of minutes!
Summer is almost over and we have officially been open since January 20th.  We are in the process of conducting a Member Satisfaction Survey, in order to get your feedback.  If you have not yet completed the survey, all you have to do is click on the link below and answer the survey questions.  We really appreciate you helping us by completing this task: https://www.surveymonkey.com/s/96X6G63
I. Reminder:  Are you on Track? 15 Minutes is all it will take to make sure you are!

If you have not done so yet, arrange a Progress Meeting, through Jason at the front desk.  As part of our goal to get the greatest result with each client, we would like to spend 15 minutes, or so, going over your upcoming months of training and your current fitness strategy.  We also want to make sure we are on track with your eating.   This is a quick, fruitful, and casual meeting, the easiest time to meet would be before your workout.  You could also come in some other mutually convenient time. 
Our primary goal is to deliver great results to our clients.  We feel this will be a great tool to accomplish this moving ahead.    There is nothing more important to us than your success and happiness!
J. Reminder: S&TF Nutritional Coaching – myfitnessPal

Unless you have reached your optimum body weight please send us your food journal, otherwise you will not make the changes you are looking for.  Please provide Jacques your myfitnesspal Food Journal log every 7 days, by e-mailing us your Password and User ID to info@sirensandtitansfitness.com.  Remember, your food intake accounts for around 60-80% how you feel and look!   
We would like to wish you a fantastic September, and look forward to continue working with you helping you reach all your fitness goals!
Best regards,
The S&TF Team
Posted in Newsletters | Leave a Comment