Posted on August 19th, 2014
VIDEO: 'VERSACLIMBER' IS BACK WITH NEW TWIST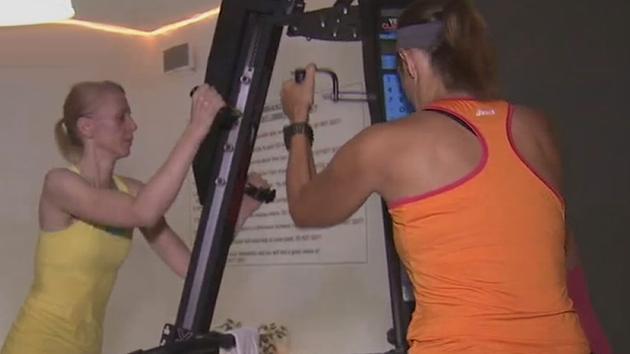 What's old is new again. You may remember the 'VersaClimber,' which was a big hit in the 90s.

Monday, August 18, 2014
LOS ANGELES (KABC) –
What's old is new again. You may remember the "VersaClimber," which was a big hit in the 90′s.  But the solo workout was so tough, many people were intimidated.  Now one gym in Westwood is bringing it back with a twist.  Food and Fitness Coach Lori Corbin checked it out.  Watch her report above from Eyewitness News.
Posted in Media | Leave a Comment
Posted on August 15th, 2014
The VersaClimber is the most ignored piece of fitness equipment in the gym, but it shouldn't be, says Jacques Devore, owner of the year-old Sirens & Titans gym in the Westwood neighborhood of L.A. The simple-looking 7-foot-tall rail with hand- and foot-pegs that move up and down in a ladder-climbing motion, a machine invented in 1981, invariably is empty because people are afraid of this brutal all-body aerobic workout. That's why VersaClimber devotee Devore put 15 of them in a room and began offering possibly the world's first group V-Climber workout. "The vertical orientation with hands overhead rockets your heart rate like nothing else," he says. "In 30 minutes of 45-, 30- and 15-second intervals, you get an aerobic workout that blows away everything else." I sat in on a full class one Tuesday as he cranked up the music and started barking out instructions.
Sirens & Titans, 2311 Westwood Blvd., L.A.; sirensandtitansfitness.com
Effort: Tough from beginning to end. With technique not an issue (you just move your arms and legs up and down), you focus on going all-out on the short intervals, each of which is followed by a brief recovery. (The workout is a total of 17 minutes of activity and 13 minutes of rest; believe me, you need that rest.) Driven by the inherent competition — your V-Climber is set up on a tripod with two others, and several times you go to the board to write down the total feet climbed from your digital monitor — I pushed to the point of near-collapse. When it was over, everyone was energized and ecstatic. One woman told me the class helped her lose 70 pounds; the hard-core athletes said the all-body intensity not only improved their cycling and running but also allowed them to train less.
Style:
 Devore is part coach and part mad scientist, ordering various lengths of intervals at certain intensities. The latter half of the session switches from competition to teamwork, as tripod partners aim for cumulative group totals. It ends on a rousing high note as the whole class pulls together for a group goal.
Copyright © 2014, Los Angeles Times
Posted in Media News | Leave a Comment
Posted on October 27th, 2014
My workouts with Sirens & Titans are fantastic!  In 6 short weeks I felt my shape improving, my cardio stamina hugely improved, and my motivation is so much higher and so excited to where this can all go!  The S&TF team is so knowledgeable, motivational, and helpful.  They are 100% committed in helping people meet their goal as quickly as possible!  I would highly recommend this program to anyone that needs a quick workout and still wants to tone and change their body composition!
Meghan B.
Posted in Testimonials | Leave a Comment
Posted on October 22nd, 2014
I Recently relocated to the Westside, from Woodland Hills, and was in search of a new workout regime.  Lucky, I was introduced to Sirens &Titans Fitness!  If you are interested in taking your fitness level to the optimum this is your place.  The coaches are passionate and knowledgeable, with helping you achieve your goals.  I have been working out there for a number of months, twice a week,  and have substantially decreased my body fat %, while increasing my lean muscle mass!   When I go to S&TF I feel inspired.  Curious about your eating and nutrition? they have that covered too!  I can't say enough about this place, it is like no other gym I have ever experienced. Do yourself a favor and stop by!
Rhea A.
Posted in Testimonials | Leave a Comment
Posted on October 20th, 2014
About a month ago we thought it would be a good idea to put together a camp discussing weightlifting  for cyclists and endurance athletes.  We could not be happier with the outcome. 
We had a great weekend with about 20 cyclists and some runners who were interested in learning more about how to lift in the pre-season and during the season.
We started the weekend with a Meet and Greet.  Jacques DeVore, Dave Zabriskie, and Ian Murray were able to meet the
participants  and give an overview of what the weekend would bring.  Everybody got to know each other in a very relaxed atmosphere with wine, beer or water served.   Helen's Cycles and Dan Weinberg were a co-sponsor and were great about providing great swag for everyone and gift card raffles for the participants through out the weekend.
Saturday was comprehensive, starting at noon and going to around 4pm.   We started with basic assessments of the participants and identified glaring biomechanical deficiencies.  We followed with some basic strength tests.  We also tested to see whether each the participants were good or bad  at producing  power to ascertain a starting point for them.
We then spent the rest of the afternoon discussing force production, power, and maximum sustained power, what the physics are
behind movement, how does one assess where you are starting, program design, etc. Then we continued with what the physiology is behind improving strength and power.   We went into detail on training techniques for strength and power development.  We discussed the mistakes that many make and how to avoid these mistakes.  DZ added color and depth to the workouts and the exercises, and how they translate into performance on the bike.
We ended the afternoon with a hands on clinic on lifiting form and types of lifts that are most important for cycling.
Sunday started with a no drop group ride.  After the ride everyone met back at
the center, where there was a lunch waiting,   provided by Helen's Cycles.  After lunch everyone went through a ultrasound body fat analysis.  Then Ian Murray discussed the impact of power on the bike through a good bike fit.  He opened up a lot of the participants' eyes in regards to the importance of  comfort.  It was a great presentation.
DZ finished the afternoon  discussing time trialing and what the components to successful time trials area.  He discussed equipment, strategy, warm ups, recon, a total overview of what makes a successful race.  Fascinating stuff.
The participants walked away with a step by step workout they can implement for themselves moving ahead.  It was a weekend full of fun and information.
We cannot wait to do it again.  We want to thank all of the great new friends that participated, Dave Zabriskie, Ian Murray, Dan Weinberg and Helen's Cycles.
Best,
Jacques
Posted in Blogs by Jacques | Leave a Comment