Posted on August 19th, 2014
VIDEO: 'VERSACLIMBER' IS BACK WITH NEW TWIST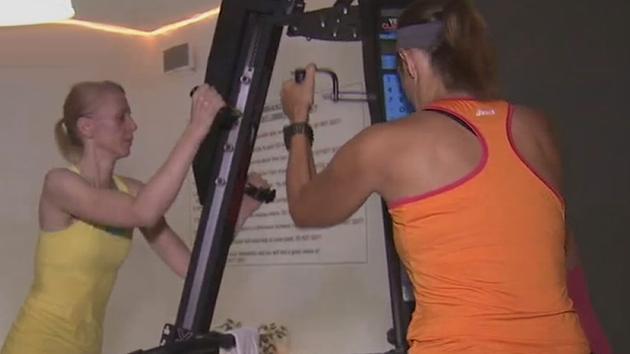 What's old is new again. You may remember the 'VersaClimber,' which was a big hit in the 90s.

Monday, August 18, 2014
LOS ANGELES (KABC) –
What's old is new again. You may remember the "VersaClimber," which was a big hit in the 90′s.  But the solo workout was so tough, many people were intimidated.  Now one gym in Westwood is bringing it back with a twist.  Food and Fitness Coach Lori Corbin checked it out.  Watch her report above from Eyewitness News.
Posted in Media | Leave a Comment
Posted on August 15th, 2014
The VersaClimber is the most ignored piece of fitness equipment in the gym, but it shouldn't be, says Jacques Devore, owner of the year-old Sirens & Titans gym in the Westwood neighborhood of L.A. The simple-looking 7-foot-tall rail with hand- and foot-pegs that move up and down in a ladder-climbing motion, a machine invented in 1981, invariably is empty because people are afraid of this brutal all-body aerobic workout. That's why VersaClimber devotee Devore put 15 of them in a room and began offering possibly the world's first group V-Climber workout. "The vertical orientation with hands overhead rockets your heart rate like nothing else," he says. "In 30 minutes of 45-, 30- and 15-second intervals, you get an aerobic workout that blows away everything else." I sat in on a full class one Tuesday as he cranked up the music and started barking out instructions.
Sirens & Titans, 2311 Westwood Blvd., L.A.; sirensandtitansfitness.com
Effort: Tough from beginning to end. With technique not an issue (you just move your arms and legs up and down), you focus on going all-out on the short intervals, each of which is followed by a brief recovery. (The workout is a total of 17 minutes of activity and 13 minutes of rest; believe me, you need that rest.) Driven by the inherent competition — your V-Climber is set up on a tripod with two others, and several times you go to the board to write down the total feet climbed from your digital monitor — I pushed to the point of near-collapse. When it was over, everyone was energized and ecstatic. One woman told me the class helped her lose 70 pounds; the hard-core athletes said the all-body intensity not only improved their cycling and running but also allowed them to train less.
Style:
 Devore is part coach and part mad scientist, ordering various lengths of intervals at certain intensities. The latter half of the session switches from competition to teamwork, as tripod partners aim for cumulative group totals. It ends on a rousing high note as the whole class pulls together for a group goal.
Copyright © 2014, Los Angeles Times
Posted in Media News | Leave a Comment
Posted on November 25th, 2014
I am 62 and an active participant in the USATF Masters Division normally running middle distance events.  I compete as a member of the SoCal track Club and most recently won a silver medal in the 4 x 800 relay at the National Masters Indoor Meet in Boston in March 2014.  Longer term,  I am interested in running shorter, sprint distances and started working with Jacques DeVore at Sirens &Titans Fitness, since April 2014, to improve my speed and power and am very pleased with the results in the six months of training.
Jacques and his team understand my objectives and have developed a program designed to achieve them.  S&TF does not promote a cookie cutter, one-size-fits-all approach.  Individual attention is a hallmark of the S&TF approach and method. Right now my weekly regime consists of three 30 minute VersaClimber cardiovascular sessions, and two or three 45 minute Elite Workouts consisting of strength and  power training sessions for upper body, legs and core.
The VersaClimber sessions include about four or five different routines that are rotated over a two week cycle and provide an intense, non-impact cardiovascular workout that, depending on the routine, emphasize aerobic or anaerobic development or both.  They are a great supplement to the 3 days of actual running/road work I do.  There is no question that my anaerobic fitness has improved as a result of the VersaClimber workouts and without the pounding of actual road work.
The Elite sessions cover strength, power, flexibility and stability and pack a lot of work into 45 minutes.  Jacques has state of the art knowledge of the physiology of exercise and fitness  and understands the difference between speed and power and the importance of both.   As well, we are constantly working on stability and flexibility as those provide the foundation for strength and power.  Not surprisingly,  both my gross strength and my power have noticeably improved since I started these workouts.  Again, the workouts are individually designed, and Jacques and Coach Rob Robinson pay careful attention to technique and mechanics in the performance of the exercises.
Finally, Jacques understands the importance of appropriate and adequate rest and recovery in the training regime, particularly for older athletes.  Yes, I admit I am an "older" athlete.  Significantly, I have not lost any time to injury or over-training as a result of any work at S&TF.
David W.
USATF Masters Division Runner

Posted in Testimonials | Leave a Comment
Posted on November 19th, 2014
As a member of Sirens & Titans Fitness I use a combination of the FUBAR VersaClimber Workouts and the Strength & Conditioning Sessions as part of my overall fitness strategy!
As an Elite runner for many years, I think of myself as a highly conditioned athlete.  Well, after my first workout on the VersaClimber at S&TF, I was humbled!  This workout kicked my butt (Literally)!  My glutes, quads, hamstrings, back, biceps…everything was on fire; but I kept going, motivated by an incredible coaching staff!
The coaching, team spirit and enthusiasm at S&TF are contagious, so no matter how much my body is burning I always push a little bit harder!  That is when I get those elusive results we are all looking for!  I know when I push my body a little beyond what I did before, I improve!
The entire experience at S&TF has pushed me outside of what I ever thought was possible.  I am seeing significant results in my strength, conditioning, mobility, and stability in running and my other sports I participate in,  as well as my overall mental attitude, focus, fortitude.  This fitness center has seriously changed the way I train and look at fitness.  Jacques has taught me so much about nutrition and training- which has only catapulted me into a new level of fitness!  Thank you to S&T Fitness and team for not only changing my body, but changing the way I live my life!  I cannot recommend this place enough to anyone who wants to see results and is willing to put in the effort!  And if you think you're already in good shape; one session on the VersaClimber will surprise you!
Laura C. 
Elite distance Runner and Triathlete

Posted in Testimonials | Leave a Comment
Posted on November 10th, 2014
My workouts with Sirens & Titans Fitness are fantastic!  In 6 short weeks I felt my shape improving, my cardio stamina hugely improved, and my motivation was so much higher. The S&TF coaches are amazing and really know their stuff.  They know how to positively keep me on track and move me towards meeting my fitness objectives!  I would highly recommend this program for anyone that needs a quick workout, wanting to change their body composition, and substantially increase the fitness level! I LOVE S&TF!
Meghan B., West Hollywood CA
Posted in Testimonials | Leave a Comment