Posted on August 15th, 2014
The VersaClimber is the most ignored piece of fitness equipment in the gym, but it shouldn't be, says Jacques Devore, owner of the year-old Sirens & Titans gym in the Westwood neighborhood of L.A. The simple-looking 7-foot-tall rail with hand- and foot-pegs that move up and down in a ladder-climbing motion, a machine invented in 1981, invariably is empty because people are afraid of this brutal all-body aerobic workout. That's why VersaClimber devotee Devore put 15 of them in a room and began offering possibly the world's first group V-Climber workout. "The vertical orientation with hands overhead rockets your heart rate like nothing else," he says. "In 30 minutes of 45-, 30- and 15-second intervals, you get an aerobic workout that blows away everything else." I sat in on a full class one Tuesday as he cranked up the music and started barking out instructions.
Sirens & Titans, 2311 Westwood Blvd., L.A.; sirensandtitansfitness.com
Effort: Tough from beginning to end. With technique not an issue (you just move your arms and legs up and down), you focus on going all-out on the short intervals, each of which is followed by a brief recovery. (The workout is a total of 17 minutes of activity and 13 minutes of rest; believe me, you need that rest.) Driven by the inherent competition — your V-Climber is set up on a tripod with two others, and several times you go to the board to write down the total feet climbed from your digital monitor — I pushed to the point of near-collapse. When it was over, everyone was energized and ecstatic. One woman told me the class helped her lose 70 pounds; the hard-core athletes said the all-body intensity not only improved their cycling and running but also allowed them to train less.
Style:
 Devore is part coach and part mad scientist, ordering various lengths of intervals at certain intensities. The latter half of the session switches from competition to teamwork, as tripod partners aim for cumulative group totals. It ends on a rousing high note as the whole class pulls together for a group goal.
Copyright © 2014, Los Angeles Times
Posted in News | Leave a Comment
Posted on August 28th, 2014
Nothing we do is random! We are different at S&T because we take the best practices of training world-class athletes and
give that coaching to our clients at an affordable price.  We are coaches not trainers and drive our business by looking at best practices to drive our results.  The FUBAR VersaClimber Workout is the most recent example of accomplishing high-speed results for our clients.
Strategy development is a big part of accelerating results.  The last blog entry I wrote about primary objectives in our individual workouts we provide our clients.  These are tactics that support our overall strategy.  In this entry I will discuss more about the development of the strategy.
Strategy Development:  You want to speed up your progress?
In the past I discussed overload and adaptation.  The idea that incremental overloads on a regular basis allow the body to adapt to these changes by a physiological change in the ability of your body to perform the specific task at greater and greater levels of 
When training a particular athlete or individual how is this idea of overload/adaptation implemented? The training, both tactically and strategically, must be specific to the sport and objective.  This statement is obvious but becomes much more complicated and tricky as the athlete or individual becomes fitter.  To see a desired result there must be a strategy.
A good example would be in training a 100 meter sprinter.  It makes sense anecdotally that having a really strong grip is not going to make you a great sprinter.  So spending large amounts of time on one's grip would not be the best use of training time for a sprinter.  Now a wrestler would look at his grip as an important part of the sport and a weak grip would be something that would need to be addressed.  The correlation of grip to wrestling has a much higher relationship than the correlation of grip to sprinting.
Understand correlations to speed your progress!  You are building a 100 story office building.
The above example demonstrates the concept of correlation and how it relates to training and achieving your goals.   If one had the time and the inclination, correlation coefficients could be measured on different performance measures to rank the value of training exercises relative to a sport or a desired result.  The correlation coefficient is a number between -1 and 1.  If there is no
relationship between the predicted values and the actual values the correlation coefficient is 0 or lower (the predicted values are no better than random numbers this would be the example of grip strength to sprinting).  As the strength of the relationship between the predicted values and actual values increases so does the correlation coefficient.  A perfect fit gives a coefficient of 1.0.  Thus the higher the correlation coefficient of an exercise to the specific needs of the sport the greater the value of the exercise.   A negative correlation number would be actions or exercises that actually take away from the performance of a specific sport.  These correlations are understood by evaluating the available research and by the experience of the coach or through trial and error of an athlete.
Strength and conditioning coaches must think through this idea of correlation and determine what aspects of a training strategy have the most impact on the performance of the athlete in a sport.  This is where there are often times gaps and progress slows
dramatically.  In many cases it is random.   If this is not being evaluated then precious training time is being wasted on areas that have little impact on the performance of the athlete.   At Sirens & Titans Fitness we look for "tipping point" fitness gains.  These tipping points are areas of fitness that with small gains can produce huge changes in the performance of the athlete or individual.   In most cases the tipping points present themselves after evaluating an athlete or individual for functional fitness.  Many tipping point fitness issues can be identified in this evaluation.  Another area that has this type of fitness leverage is found is in movements where power needs to be maintained for longer durations of time.  There are a lot of athletes that have great vertical jumps; however they can only execute a handful of jumps at a high output level.  Training the athlete so they can maintain 90-100% of this output for a longer duration creates champions and changes the performance dramatically in competition.
In summary, think about the correlation of your training to your performance in sport.  The correct building of a strategy is what will get you to your goal in the shortest amount of time.  We are constantly evaluating where this concept can help our clients gain performance and make change quickly.  In addition, if you want faster results look for areas of weakness that would provide you with that "tipping point" performance progression.  These are both game changers.
Train smart, have fun, and you will prevail!
Jacques DeVore, CSCS
Founder and CEO, Sirens & Titans Fitness
Posted in Blogs by Jacques | Leave a Comment
Posted on August 19th, 2014
VIDEO: 'VERSACLIMBER' IS BACK WITH NEW TWIST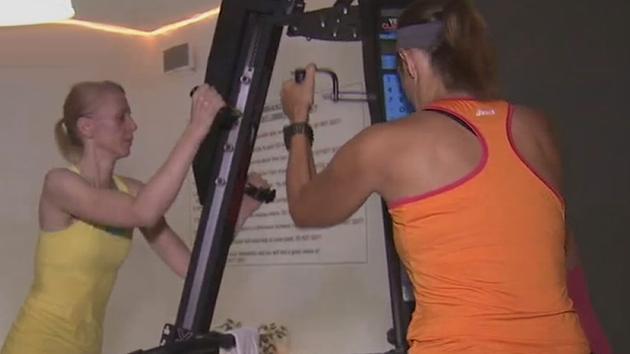 What's old is new again. You may remember the 'VersaClimber,' which was a big hit in the 90s.

Monday, August 18, 2014
LOS ANGELES (KABC) –
What's old is new again. You may remember the "VersaClimber," which was a big hit in the 90′s.  But the solo workout was so tough, many people were intimidated.  Now one gym in Westwood is bringing it back with a twist.  Food and Fitness Coach Lori Corbin checked it out.  Watch her report above from Eyewitness News.
Posted in News | Leave a Comment
Posted on August 19th, 2014
Jacques will be giving another great Sports Performance Lecture, the 5th in a series on Thursday, August 28th, 2014, 7:00 PM at Cynergy Cycles!  As always, the lecture will be informative, practical, fun, and will only take about an hour!
The focus of this lecture is "How to improve Maximum Sustained Power" – Important knowledge for the elite competitive endurance or amateur athlete.  As with the previous lectures the information provided can be quickly incorporated in your own training which will lead to a quick improvement in your performance.  We are looking forward to seeing you all there! 
For more info & to RSVP visit:  http://cynergycycles.com/sirens-titans-fitness-lecture-series
We are looking forward to seeing you at the lecture. In the meantime, if you have any questions do not hesitate to call us at (310) 307-0200, or e-mail us at info@sirensandtitansfitness.com.
The S&TF Team
Posted in Events | Leave a Comment