Posted on August 19th, 2014
VIDEO: 'VERSACLIMBER' IS BACK WITH NEW TWIST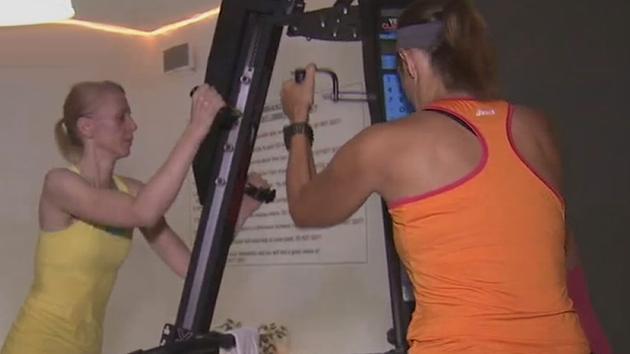 What's old is new again. You may remember the 'VersaClimber,' which was a big hit in the 90s.

Monday, August 18, 2014
LOS ANGELES (KABC) –
What's old is new again. You may remember the "VersaClimber," which was a big hit in the 90′s.  But the solo workout was so tough, many people were intimidated.  Now one gym in Westwood is bringing it back with a twist.  Food and Fitness Coach Lori Corbin checked it out.  Watch her report above from Eyewitness News.
Posted in Media | Leave a Comment
Posted on August 15th, 2014
The VersaClimber is the most ignored piece of fitness equipment in the gym, but it shouldn't be, says Jacques Devore, owner of the year-old Sirens & Titans gym in the Westwood neighborhood of L.A. The simple-looking 7-foot-tall rail with hand- and foot-pegs that move up and down in a ladder-climbing motion, a machine invented in 1981, invariably is empty because people are afraid of this brutal all-body aerobic workout. That's why VersaClimber devotee Devore put 15 of them in a room and began offering possibly the world's first group V-Climber workout. "The vertical orientation with hands overhead rockets your heart rate like nothing else," he says. "In 30 minutes of 45-, 30- and 15-second intervals, you get an aerobic workout that blows away everything else." I sat in on a full class one Tuesday as he cranked up the music and started barking out instructions.
Sirens & Titans, 2311 Westwood Blvd., L.A.; sirensandtitansfitness.com
Effort: Tough from beginning to end. With technique not an issue (you just move your arms and legs up and down), you focus on going all-out on the short intervals, each of which is followed by a brief recovery. (The workout is a total of 17 minutes of activity and 13 minutes of rest; believe me, you need that rest.) Driven by the inherent competition — your V-Climber is set up on a tripod with two others, and several times you go to the board to write down the total feet climbed from your digital monitor — I pushed to the point of near-collapse. When it was over, everyone was energized and ecstatic. One woman told me the class helped her lose 70 pounds; the hard-core athletes said the all-body intensity not only improved their cycling and running but also allowed them to train less.
Style:
 Devore is part coach and part mad scientist, ordering various lengths of intervals at certain intensities. The latter half of the session switches from competition to teamwork, as tripod partners aim for cumulative group totals. It ends on a rousing high note as the whole class pulls together for a group goal.
Copyright © 2014, Los Angeles Times
Posted in Media News | Leave a Comment
Posted on October 22nd, 2014
I Recently relocated to the Westside, from Woodland Hills, and was in search of a new workout regime.  Lucky, I was introduced to Sirens &Titans Fitness!  If you are interested in taking your fitness level to the optimum this is your place.  The coaches are passionate and knowledgeable, with helping you achieve your goals.  I have been working out there for a number of months, twice a week,  and have substantially decreased my body fat %, while increasing my lean muscle mass!   When I go to S&TF I feel inspired.  Curious about your eating and nutrition? they have that covered too!  I can't say enough about this place, it is like no other gym I have ever experienced. Do yourself a favor and stop by!
Rhea A.
Posted in Testimonials | Leave a Comment
Posted on October 20th, 2014
About a month ago we thought it would be a good idea to put together a camp discussing weightlifting  for cyclists and endurance athletes.  We could not be happier with the outcome. 
We had a great weekend with about 20 cyclists and some runners who were interested in learning more about how to lift in the pre-season and during the season.
We started the weekend with a Meet and Greet.  Jacques DeVore, Dave Zabriskie, and Ian Murray were able to meet the
participants  and give an overview of what the weekend would bring.  Everybody got to know each other in a very relaxed atmosphere with wine, beer or water served.   Helen's Cycles and Dan Weinberg were a co-sponsor and were great about providing great swag for everyone and gift card raffles for the participants through out the weekend.
Saturday was comprehensive, starting at noon and going to around 4pm.   We started with basic assessments of the participants and identified glaring biomechanical deficiencies.  We followed with some basic strength tests.  We also tested to see whether each the participants were good or bad  at producing  power to ascertain a starting point for them.
We then spent the rest of the afternoon discussing force production, power, and maximum sustained power, what the physics are
behind movement, how does one assess where you are starting, program design, etc. Then we continued with what the physiology is behind improving strength and power.   We went into detail on training techniques for strength and power development.  We discussed the mistakes that many make and how to avoid these mistakes.  DZ added color and depth to the workouts and the exercises, and how they translate into performance on the bike.
We ended the afternoon with a hands on clinic on lifiting form and types of lifts that are most important for cycling.
Sunday started with a no drop group ride.  After the ride everyone met back at
the center, where there was a lunch waiting,   provided by Helen's Cycles.  After lunch everyone went through a ultrasound body fat analysis.  Then Ian Murray discussed the impact of power on the bike through a good bike fit.  He opened up a lot of the participants' eyes in regards to the importance of  comfort.  It was a great presentation.
DZ finished the afternoon  discussing time trialing and what the components to successful time trials area.  He discussed equipment, strategy, warm ups, recon, a total overview of what makes a successful race.  Fascinating stuff.
The participants walked away with a step by step workout they can implement for themselves moving ahead.  It was a weekend full of fun and information.
We cannot wait to do it again.  We want to thank all of the great new friends that participated, Dave Zabriskie, Ian Murray, Dan Weinberg and Helen's Cycles.
Best,
Jacques
Posted in Blogs by Jacques | Leave a Comment
Posted on October 16th, 2014
VersaClimber Ultra HIIT Group Training Positioned to Energize Clubs
As health clubs capitalize on the popularity of group training, and meet the demand for creatively intense workouts, VersaClimber now offers an ideal, exciting solution with its new Ultra High Intensity Interval Training (HIIT) group classes, which are being implemented in clubs in the United States.
With exercisers embracing powerful challenges such as CrossFit and Spartan races, VersaClimber provides a unique way to train harder, more efficiently and more effectively in just 30 minutes – supported by a group and directed by an instructor in a class. VersaClimber Ultra HIIT classes spark new interest and enthusiasm among members, and become a valuable revenue stream for clubs.
The "Hardest 30-Minute Indoor Cardio Program Today"  Members of Sirens and Titans Fitness (S&TF) in Westwood, in the heart of Los Angeles, are regularly pushing their limits and enjoying exhilaration in owner Jacque DeVore's FUBAR classes using the VersaClimber.  "This is like a Tough Mudder in 30 minutes – not for the faint of heart, but doable," noted DeVore. "So far, no body has passed out or thrown up."  At S&TF, 15 VersaClimbers (in five High-Tri stations of three machines each) equip a 1,000-square-foot studio with adjustable lighting, a killer sound system and the "10 Commandments of FUBAR," all of which end with "Do Not Quit." Here, DeVore leads willing – and somewhat intimidated – participants in four classes daily.
Attendees range from novices to hard-core athletes, and to promote confidence, beginners are grouped together, with advanced students on different pods. The VersaClimber's vertical range of motion easily adapts to any fitness level, for a supremely versatile workout.
Classes consist of multiple intervals of work and rest, and DeVore, a CSCS, cycling coach and avid VersaClimber user, varies the length of each to challenge participants differently. He provides individual coaching throughout, based on each member's fitness level and goal. Heart rate training also can be implemented into classes for even greater personalization.
While everyone works at their own level, competition is fostered and celebrated as participants log their total feet climbed on a white board during breaks. Some classes also include team challenges among the pods.
Feedback on classes has been phenomenal, with 100 percent of ST&Fs FUBAR participants indicating a sense of accomplishment and a willingness to return. DeVore attributes some success to the broad appeal of a 30-minute total-body workout to today's busy exercisers.
"Plus, intense intervals are very hard to do on your own, so having a coach's guidance and the camaraderie of a team makes this rigorous workout more manageable," DeVore said.
DeVore continues to promote the FUBAR classes, however. "Not everyone knows what the VersaClimber is – or they are scared to death of it and feel like it's too hard. The reality is that the workout is as hard as you make it. We want people to come  back."
Interest keeps growing, as ST&F's FUBAR classes were recently featured in the Los Angeles Times and on ABC-TV in L.A., with more national media coverage to come.
At S&TF, VersaClimber classes are fee-based, by class or at a discounted package rate. DeVore is already realizing the revenue potential, particularly as new classes are added, noting a "tremendous impact" on the club.
Ultra HIIT Superiority
Since VersaClimbers debuted in the early 1980s, they have been known for their total-body workouts that engage all of the major muscles, have zero impact and burn four times the calories and fat in the least amount of time, compared to traditional cardiovascular equipment like ellipticals and stationary cycles. Unlike other cardio modalities, VersaClimber requires exercisers to train vertically (versus horizontally), which creates a greater cardiovascular challenge that can provide results faster.
Due to their effectiveness, VersaClimbers deliver workouts in 30 minutes (versus 60-minute typical group exercise classes), thereby enabling clubs to offer more classes and generate additional revenue. Furthermore, VersaClimber empowers clubs to determine how many units to floor and to design classes to meet the needs of their members, rather than requiring them to commit to a pre-planned format. Clubs can create beginner and multi- level classes, utilizing the adjustable resistance to accommodate fitness levels. The compact footprint of VersaClimbers saves floor space.
VersaClimber offers clubs co-op marketing, print advertising and social media support for Ultra HIIT classes. And the motivation generated by VersaClimber classes gives clubs a distinct competitive advantage in membership sales and retention.
"This could be the new Spinning," said DeVore. "VersaClimber is absolutely the best piece of cardio equipment, and exercisers get so much physiological value in these classes."
To see the original Article, on page 10, in the online Fall issue of the National Fitness Trade Journal, click on this link: http://www.nationalfitnesstradejournal.com/nftj-fall-2014/
For more information call 800-237-2271 or visit VersaClimber.com or email at info@versaclimber.com
Posted in Media | Leave a Comment